Link tickets to efficiently keep track of related tickets
If you are a helpdesk user, then most probably you have experienced receiving an influx of related or repetitive requests and the tiring process of handling them one by one. With link tickets, it is effortless to aggregate these tickets and ensure that updates are delivered in a consistent and professional way across all agents, thus solving issues with speed and confidence.
---
Types of links
There are a number of links you can add between issues including block, is blocked by, clone, is cloned by, duplicate, is duplicated by, cause, is caused by, and related to.

For easy referencing, the link information has been added including: the relationship between the tickets, ID, Subject, Request type, assignee, as well as the status.
---
Why would I use link tickets?
Related to
It happens quite often to receive dozens of tickets all about the same issue. Let's say for instance your server goes down and hundreds of tickets are being added regarding this. Instead of handling these separately, one parent ticket could be created and be assigned to the main problem-solving agent with other child tickets being connected to it. You can add the child tickets' agents as watchers to that parent ticket, so once the problem is solved, these agents in their turn can notify the requesters that this issue is now fixed.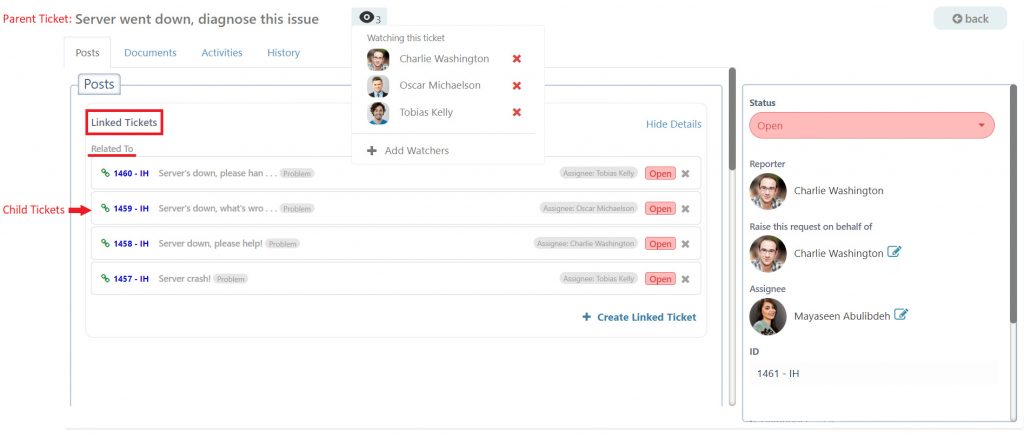 ---
Duplicate /is duplicated by
Different types of links can be used to address the same issue. Other users, for example, can use "duplicate/is duplicated by" to link the tickets in the above example, without creating a parent ticket, with one of the tickets being assigned to the main problem-solving agent as the image below illustrates: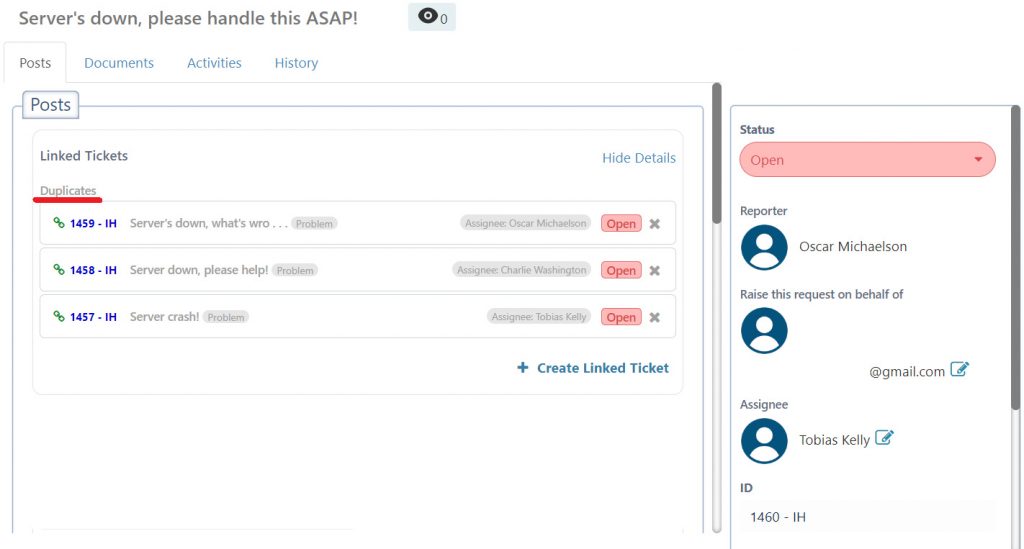 ---
Clone/ is cloned by
On the other hand, have you ever thought how you can utilize Helpdesk to facilitate the process of on-boarding new employees? In this case, you may spend time creating a ticket for the request and configuring all its fields with the new hire's information. The problem is that you need to make the information available for different users within Helpdesk to complete a list of sub-tasks on time. From now on, with the clone link type, you do not need to spend extra time and duplicate same information in different tickets. This option helps you divide the work among multiple agents in your company, each of whom have to work with the right teams, keep track of the progress, and complete the assigned task. This way of dealing with tickets can increase accountability for agents and reduce the overall resolution time.

---
Cause /is caused by
Besides, you may have a support ticket created by a customer and the bug that causes that issue has already been added to Helpdesk. In this case, you can link both tickets using cause/is caused by link type to easily organize and track related tickets.
---
Block /is blocked by
In addition, if you have a list of bugs that should be fixed in order, then the easier method to let agents understand the case is to create a separate ticket for each bug and to link them using block/is blocked by. In this scenario, agents need to track the progress of the linked ticket to start working on their own.
Last but not least, it is worth mentioning that these linked tickets act independently and your users will need to have permissions on the linked issues. However, linking them this way making it easy to stay on top of what is going on with the issue. Besides, if at any time you want to remove the link, this can be done easily from the cross sign next to the linked ticket.