Congratulations for signing up for the free trial! Before we begin, we'd like to admit, the process of setting up Helpdesk isn't as daunting as you believe. For this purpose, we've put together a step-by-step guide on how you set up Helpdesk.
How to set up SteadyPoint Helpdesk?
Our product management team has helped many clients across different industries set up SteadyPoint Helpdesk. The team is now aware of the challenges the clients have previously faced and decided to share the following steps to make the process as easy as possible.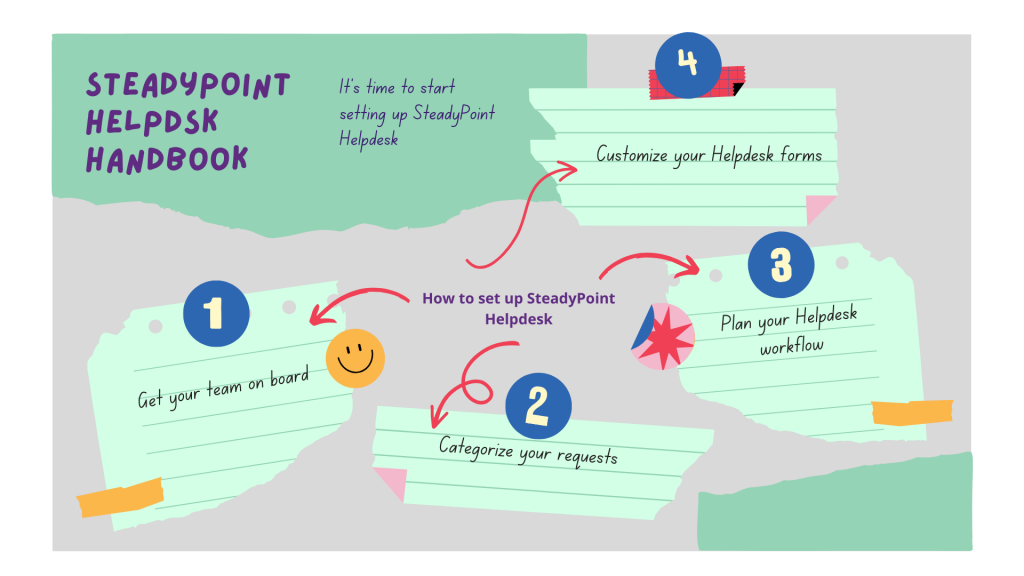 Step 1: Get your team on board
Click on the "+Invite users" button and add more people to test the system. Engage other people who you think should be involved in testing.

Step 2: Categorize your requests
Before the actual set up of Helpdesk starts, your team should think of the type of requests they usually receive and how to classify or categorize them.
If you're in an organization that is made up of different departments, each of which handles their own requests, then it's better if you create a separate entity (i.e. workspace) for each one of them.
Having different departments means you can add department-specific agents for every department. By doing so, you can also set up different forms, workflows, and SLAs that meet the specific needs of each department.
Once you're done adding workspaces, you can categorize your tickets under each by creating request types, categories, and subcategories. It's worth mentioning that the first two levels (i.e. Workspace, and Request type) are mandatory to be created, whilst categories and subcategories are optional.
Creating workspaces, request types, categories and subcategories is as simple as this.
Create Workspaces, Request types, Categories and Subcategories >
Step 3: Plan your helpdesk workflow
Having a clear understanding of what you need from your workflow is the first step to setting this up. Think through the different kind of support requests you'll get: employee on boarding, technical problems, questions, etc… and for each scenario answer the following questions:
What are the typical steps that requests usually go through?
Who is assigned to each stage?
What are the options available to the assignee in each stage? Close the ticket, Mark it 'as In Progress', reopen it, just to name a few.
Which email template would you like to send to assignee in each stage?
Think of answers and based on them make a visual depiction of what happens with requests, include all the steps that must be undertaken by your agents to successfully achieve a task.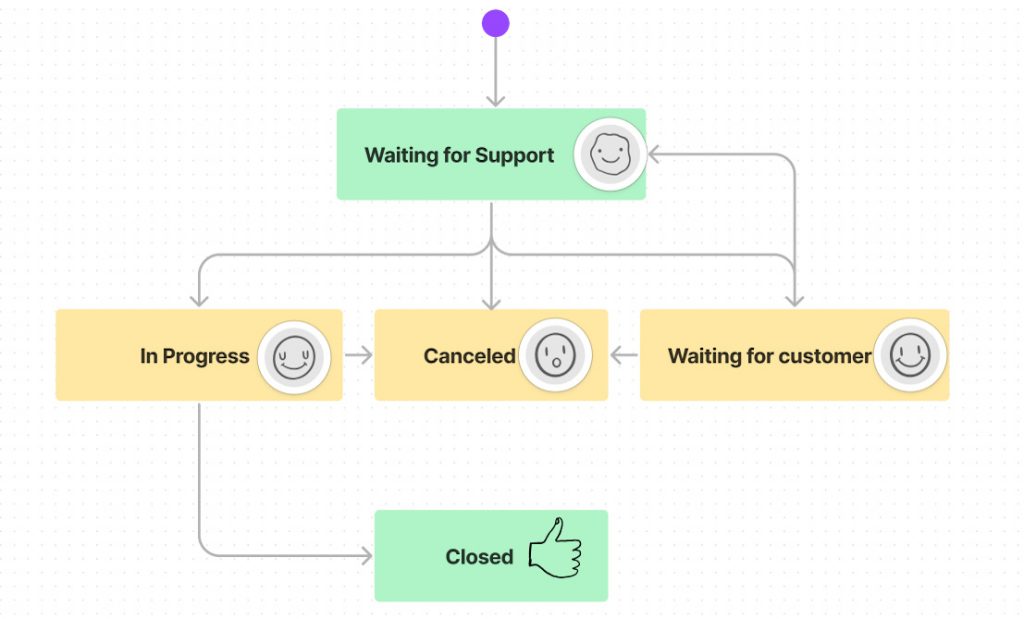 For the above scenario, tailoring the workflow is as simple as this.
Step 4: Customize your Helpdesk forms
Create custom fields to store additional information about tickets, and requesters. Original and custom field values can be edited and viewed by the individuals you specify in each stage.
Customizing forms is as simple as this.
When you're ready with the customization, click on the "Publish" button.
Use the "Load" action to copy the entire content of the form you selected to reuse. This will save you a lot of time.
Step 5: Test your system
Before going live, you can create test tickets and ask your agents to resolve them to see how it works.
Voila! you are now ready to offer incredible support.